Obeo SmartEA 3.0
This new version integrates ArchiMate® 3.0 modeling standard and includes new editing features for even faster modeling whilst giving you total control over the complexity of your models.
Obeo SmartEA 3.0 also provides a new integrated tool that enables you to customize your own architecture modeling workbench (specific data connectors, views, and metamodels).
ArchiMate® in collaborative mode!
ArchiMate is a 'The Open Group' standardized modeling language that allows you to describe an enterprise architecture: its business processes, organization, information flow, IT systems, and technical infrastructure.
With Obeo SmartEA 3.0 you can now use ArchiMate when you work in teams on your enterprise transformation projects including collaborative modeling, data import, web publication, impact analyses, and version management.
ArchiMate 3.0 metamodel support
ArchiMate 3.0 operates natively in Obeo SmartEA 3.0 allowing you to use concepts from each of the different levels in your architecture, including Business, Applications, Technology, Motivation, and Implementation & Migration.

ArchiMate graphical editor
A complete graphical editor is now provided for ArchiMate. Easily create your own diagrams by using intuitive tools or drag&drop.
Every graphical element is associated with ArchiMate objects and relations in your repository.
You can use this data to navigate your architecture repository, perform queries and impact analyses, and produce documentation.
Even more editing features
The graphical aspects of the modeling editing environment (Obeo SmartEA Modeler) have been completely overhauled. It now has even more navigation and editing capabilities.
All the Obeo SmartEA features are independent of the metamodel irrespective of whether or not it is ArchiMate.
Model Explorer
This is a new view showing the repository's complete structure and with it you can easily create, modify, and find any object(s).
This view provides the following features:
Search by name or property
Filter by object type
Create/delete objects
Synchronize with the open editor (diagram or detailed view)
Open associated representations
File import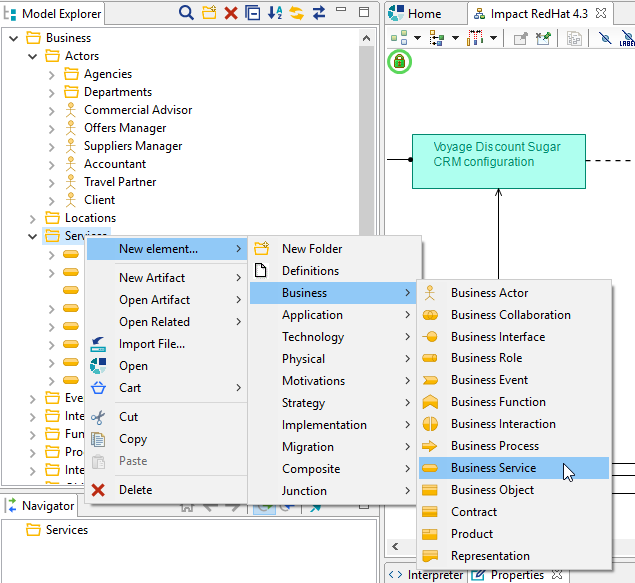 Navigator View
This view shows object entry and exit links across several levels and irrespective of position in the architecture.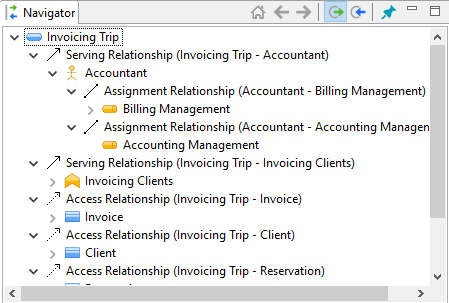 Users can quickly visualize the relationships between linked objects and can navigate across the repository. Objects can be easily used to build diagrams with simple drag&drop.
Hints View
The new Hints View displays a definition of any object type selected.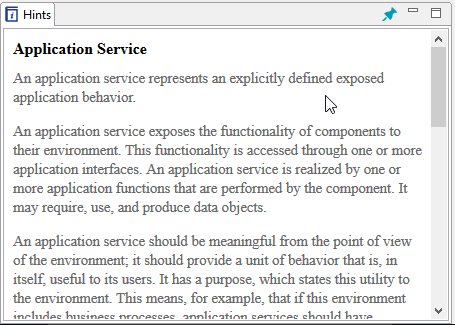 This tool can guide users in designing their architecture models.
File Import
Users can now import file-based artifacts (text, images, etc.) into the repository.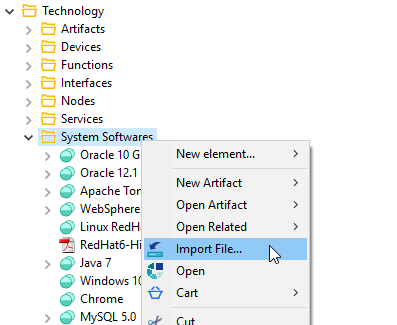 The files as well as the details view are available in the Model Explorer and can be opened with Obeo SmartEA.
Diagram shortcuts
Users can insert shortcuts between their ArchiMate diagrams. By clicking on the links users can directly access associated graphical representations.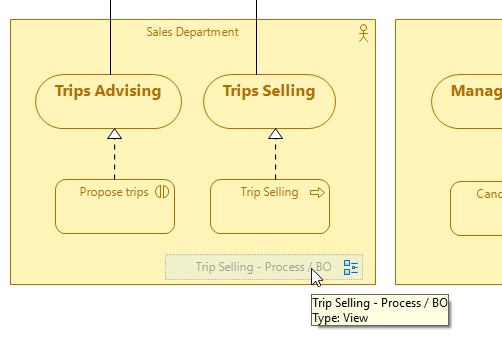 These shortcuts allow you to intuitively navigate the model.
Developer Edition
Developer Edition is a new tool in the form of a completely integrated environment that allows you to customize Obeo SmartEA:
Developing connectors
Developing advanced validation rules
Creating specific graphical presentations
Specifying metamodels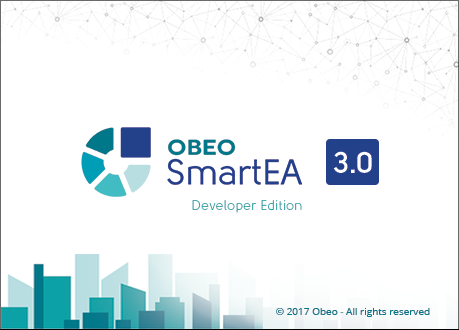 Customization features are directly integrated and accessible in one unique single development environment.
This environment integrates Obeo SmartEA's SDK, Eclipse Sirius 4.1, and Obeo Designer Team 9.1.